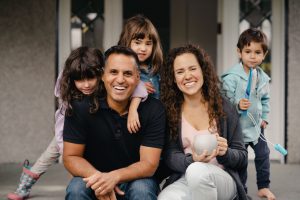 This is us, the family behind Tea Sparrow.
We share a deep love for black tea, challah, dance parties and the ocean.
We feel incredibly lucky to live in a city that allows us to blend all our teas just down the road from our house!
We are a vegan family and are passionate about our health and the health of our planet. We use only organic ingredients in all our own blends and all our teas are 100% vegan.
We are learning every day how to be a more sustainable company and we work hard to limit our environmental footprint. We are one of the only tea companies using fully compostable teabags (made from sustainably grown, non-GMO sugarcane). We want you to drink our teas and feel good tossing the bags into the compost when you're done!
We are the only company using solely compostable or biodegradable pouches for our teas and recently began switching out our sticker labels for stamps, making the tea pouches even more eco-friendly. We want our customers to feel good about the planet when purchasing from Tea Sparrow. We're very excited about these shifts and hope other businesses will do the same.
Thank you so much for choosing Tea Sparrow!
With love from Michael, Ariella, Etta, Ellie and Jacob